I need drivers for an entertaining intro I'll put in before the actual review. The first episode of season 2 will be a Swedish themed episode showcasing all of the Swedish cars allowed to partake in the series. This will take place in the Bernese Alps Festival Circuit. This will be a police chase scene. I'll be driving the Koenigsegg CC8S as a bad guy. There will be three patrol cars and a civilian car.
Cars:
Volvo S60 R (Patrol)
Volvo S60 R-Design (Patrol)
Koenigsegg CCX (Patrol)
'78 SAAB (same driver as CCX)
What will happen is I will be driving around and will overtake the old SAAB in the tunnel. After that, on the jump before the S-curves, the Volvos are waiting at this bit here and will give chase: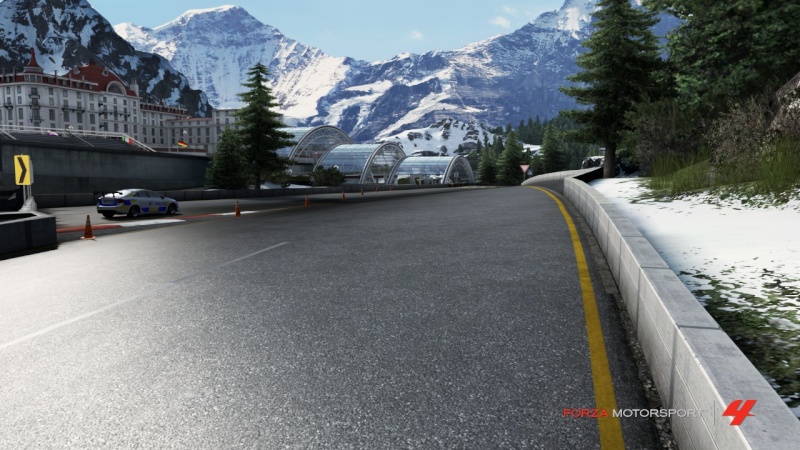 Don't worry, I'll be driving slow enough for the Volvos to keep up. Later on when it's safe enough, I will say, "split" and slam on the brakes and the two Volvos will overtake me. I will then reverse and do a j-turn and start driving the other way. The patrol cars will do the same afterward. What will happen to the SAAB? I'll pass the SAAB on the other way and the S60 R (not R-Design) will crash into the SAAB head on. There will only be cosmetic damage activated so we could finish the race.
Once the race is finished, and we go back to the lobby, the person that was driving the SAAB will be driving the CCX. I and the R-Design will take off the other way when that "race" starts. The CCX will be put on a 10-second delay. When the CCX catches up to us, the R-Design will drop back and the CCX will become the primary chase vehicle. After a bit of fast driving, the CCX will do a P.I.T. maneuver on me and crash me. After that, we'll finish the race.
It's important that everybody saves their replays.
I will pay each driver 50,000 CR for their time. To get the payment, either make a vinyl and put it up on your storefront or get a car that you don't use/want and put a buyout on it for that reward. In terms of filming, I will be off this Wednesday and Thursday and will be off the following weekend. I will be spending tonight after work working on the police vinyls. The cast will be chosen on a first-come-first-serve basis. Once I've chosen the cast, I will then send the cars to you. Let me know if y'all are interested.